Authored by Charles Hugh Smith via OfTwoMinds blog,
As long as this is business as usual, it's impossible to slash costs and boost widespread prosperity.
It's easy to go down the wormhole of complexity when it comes to figuring out why our economy is stagnating for the bottom 80% of households. But it's actually not that complicated: the primary driver of stagnation, decline of small business start-ups, etc. is costs are skyrocketing to the point of unaffordability.
As I have pointed out many times, history is unambiguous regarding the economic foundations of widespread prosperity: the core ingredients are:
1. Low inflation, a.k.a. stable, sound money
2. Social mobility (a meritocracy that enables achievers and entrepreneurs to climb out of impoverished beginnings)
3. Relatively free trade in products, currencies, ideas and innovations
4. A state (government) that competently manages tax collection, maintains roadways and harbors, secures borders and trade routes, etc.
Simply put, When costs are cheap and trade is abundant, prosperity is widely distributed. Once costs rise, trade declines and living standards stagnate. Poverty and unrest rise.
These foundations characterize stable economies with widely distributed prosperity across time and geography, from China's Tang Dynasty to the Roman Republic to the Byzantine Empire to 19th century Great Britain.
The "Secret Sauce" of the Byzantine Empire: Stable Currency, Social Mobility (September 1, 2016)
The Lesson of Empires: Once Privilege Limits Social Mobility, Collapse Is Inevitable (April 18, 2016)
I have estimated the realistic cost of a conventional middle class lifestyle, and found that only the top 20% can afford a middle class lifestyle. Needless to say, this destroys the notion of being "middle."
The squeeze on households comes from both the soaring cost of big-ticket items such as childcare and healthcare and from the stagnation of wages/income.
Why the Middle Class Is Doomed (April 17, 2012)
Priced Out of the Middle Class (June 28, 2012)
The Burrito Index: Consumer Prices Have Soared 160% Since 2001 (August 1, 2016)
Inflation Isn't Evenly Distributed: The Protected Are Fine, the Unprotected Are Impoverished Debt-Serfs (May 25, 2017)
The Disaster of Inflation–For the Bottom 95% (October 28, 2016)
About Those "Hedonic Adjustments" to Inflation: Ignoring the Systemic Decline in Quality, Utility, Durability and Service (October 11, 2017)
So your new TV cost $100 less but your healthcare costs $10,000 more: the big expenses are soaring, costing households tens of thousands of dollars more while cheap TVs and clothing decline a few bucks.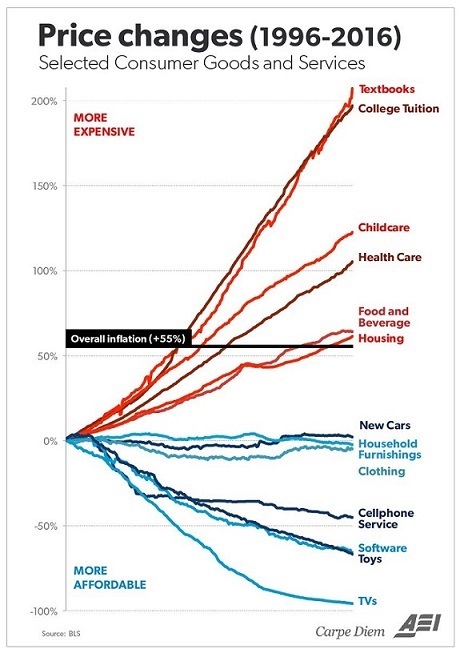 Labor's share of the economy keeps stairstepping down: every boom/bubble benefits the financier and technocrat class, but labor's share of the economic "boom" flatlines for a few years and then tanks in the inevitable unwinding/recession.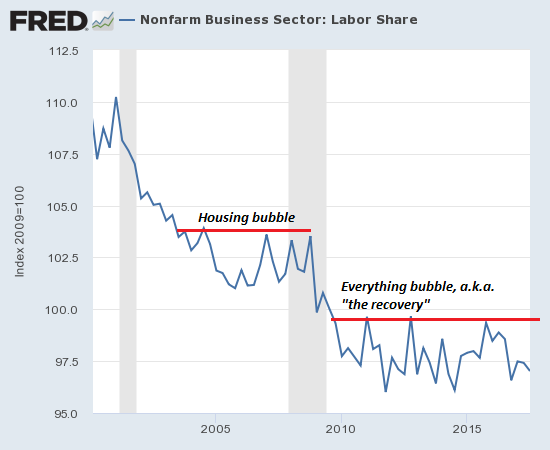 The third dynamic is the dominance of anti-competitive cartels and state guilds which are no longer accountable or competent. (The two are related, of course; when accountability is lost, there's no way to identify or weed out graft and incompetence.)
This report on the causes of the decline of New York's subway system reads like a summary of the entire U.S. economy: the politicization of public services, corruption that evades the legal definition of corruption, self-enriching guilds, cartels and elites and gross incompetence enabled by zero accountability.
How Politics and Bad Decisions Starved New York's Subway (New York Times)
As long as this is business as usual, it's impossible to slash costs and boost widespread prosperity.
*  *  *
If you found value in this content, please join me in seeking solutions by becoming a $1/month patron of my work via patreon.com. Check out both of my new books, Inequality and the Collapse of Privilege ($3.95 Kindle, $8.95 print) and Why Our Status Quo Failed and Is Beyond Reform ($3.95 Kindle, $8.95 print, $5.95 audiobook) For more, please visit the OTM essentials website.