Today's trading action told us everything we need to know about 2020.
In the first hour of trading, the Dow was down more than 400 points on negative COVID-19 headlines.
But then, buyers stepped in and stocks moved higher on positive headlines as well as agreement on another round of stimulus out of Washington, D.C.
By the end of the day, the Dow was 461 points off its low.
That's the story of 2020 — selling followed by rallies to new highs.
It got me thinking about the #1 lesson to take into 2021 … and what to do about it right now.
In many ways, 2020 has been a blur. The dramatic changes put us in something like a time warp where we can't remember what day it is much less what month it is. And the March bear market almost seems like ancient history.
Like today, this year has been a tale of two markets. And it has left a lot of investors confused.
There are a lot of lessons we can take from this crazy year, but let me focus on one today:
Buy the dips!
Buying on pullbacks makes sense only if stocks are to move higher in the future.
And I will say it as loudly and strongly as I can: They are!
I believe 2021 could be one of the best years ever for investors.
Too many investors have missed out on this year's huge rally from bear market to all-time highs, and I want to do whatever I can to help whoever I can avoid that same mistake in 2021.
Just think about the market's gut-wrenching drop earlier in the year. The pandemic was just becoming known. We had no vaccine. We had no government stimulus.
All investors could see were the red numbers in front of them, and they wanted out.
But if you took a deep breath and a step back and looked further into the future, the picture got clearer.
This is what I showed my subscribers back in March and April: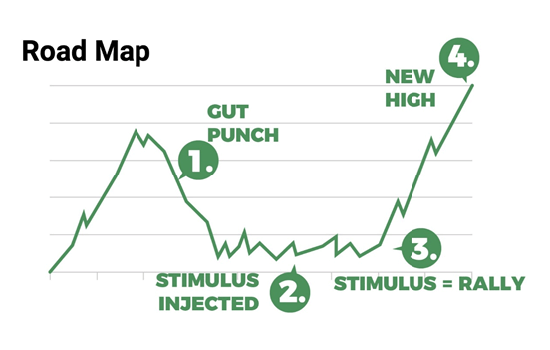 Well, here's the S&P 500 chart so far this year …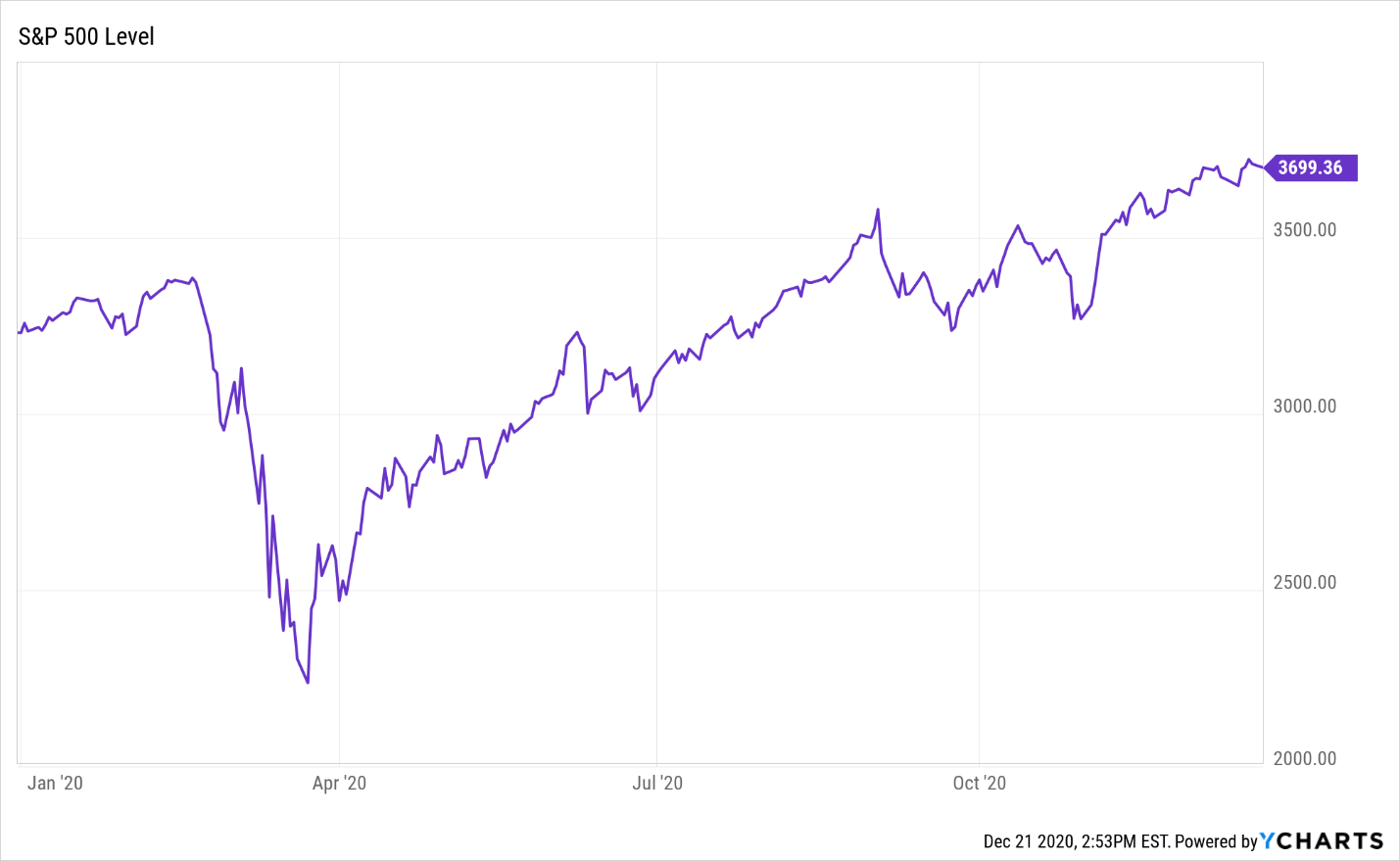 It's not identical, but it's awfully close. If I got one thing wrong on the road map, it was the speed at which stocks bounced.
Now consider where we are today.
We have not one but two approved vaccines … and both were incredibly effective in their trials. Plus, more are likely in the near future.
The European Union approved the Pfizer-BioNTech vaccine earlier today, and the first shots should be given next week. Scientists believe the vaccine will be effective against the new, highly contagious strain England has warned about, which was one of the reasons for the selling this morning.
We also have an agreement in Congress for a second stimulus bill that will inject roughly $900 billion into the economy. It includes checks to Americans for $600 per person (up to certain income thresholds), as well as help for the unemployed, businesses, schools, and childcare.
As you already know, the last round of stimulus checks was a massive boost for the stock market. Millions of Americans who didn't use their checks for savings or paying of bills used them to buy and trade stocks. Charles Schwab had over 600,000 new accounts opened in the first quarter of 2020.
Add this to already record levels of cash in checking and saving accounts, and businesses and consumers are sitting on a historic amount of money just anxiously looking to spend it. Plus, millions of Americans will once again turn their attention to stocks.
We're sitting on a powder keg.
This flood of cash and economic activity along with more people getting vaccinated and life getting back to normal should be a massive boost for the economy and the markets.
I believe we're about to witness one of the biggest stock booms in U.S. history. And carefully selected, high-quality stocks will EASILY go up 300%, 500%, and even 1,000% over the next few years.
My friend and InvestorPlace colleague Louis Navellier agrees. He says he hasn't seen these types of bullish readings for many years. The early readings from his quant-based systems are "off the charts."
In short, we believe 2021 could be one of the greatest years in history to be an investor.
That's what Louis and I talked about in detail at our Early Warning Summit 2021 last Thursday.
If you want to make money in the coming year, you must be in stocks.
Please don't try to time the market perfectly. Buy the dips. Buy the best-positioned stocks now and be ready for the better times coming in 2021.