Facebook (FB), in a seemingly rare stint of tape action, jumped double digits after reporting a strong earnings report. I've been long the name from even higher levels and have added to my position materially during the storm of 2018. Shares still have more room to run and as a result FB is my highest conviction pick for 2019. Shares are a strong buy.
Where I Went Wrong
I'm not going to hide the reality or bury the facts here: I've been quite wrong on FB. While I do believe that my initial calls to buy the shares will be vindicated in the future, my mistake however was in my high conviction at much higher prices. This stemmed from incorrectly using consensus forward earnings estimates for 2019. In my first article on FB, I was basing my optimism on an exaggeratedly high $10.50 2018 EPS, and I still was using a much too optimistic estimate of $8.50 in a later article. While the error in the first article is arguably less atrocious due to management having not yet reduced guidance, the oversight in the latter is inexcusable as management's margin guidance for 2019 was already released. With some simple calculation on realistic assumptions, I would have seen that it would be very difficult for FB to earn even $8 per share next year. The takeaway: while I am confident that FB will reach and break their all-time highs, it is clear that shares were not a "conviction buy" in the $175-$180 range. I have since learned an important lesson: lean primarily on trailing numbers and derive the future numbers yourself. While the precise estimates are in my opinion not so important for long term investors who have 3-7 year time horizons, they do however impact my level of conviction and sizing of short term portfolio positions. With shares trading at just over 22 times trailing earnings, shares are so cheap even on a trailing basis that despite the brutal beating shares have taken over the past year, I am reiterating my high conviction as well as making FB my top pick for 2019.
It Needs To Be Said: Headlines Aren't Reality
Despite all the headlines of #deleteFacebook and the impending lawsuits, FB churned out another typical quarter of healthy growth. Daily active users (especially in US & Canada) grew moderately - given the headlines I would have instead expected significant deterioration: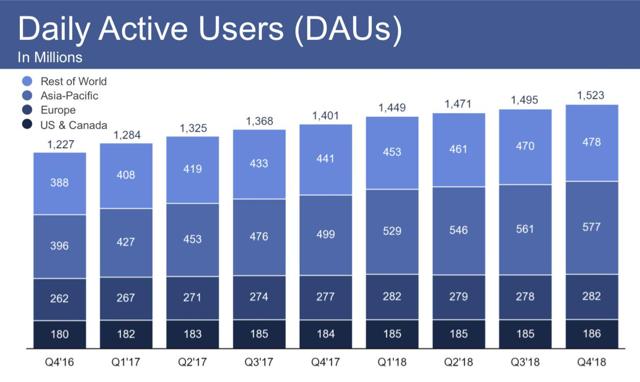 Their financial results continued to embolden the thesis of the secular trend towards online advertising. Revenue growth continued to decelerate at mid-single digits but remained strong at 30%. On the flip side, FB saw their operating margins continue to decline: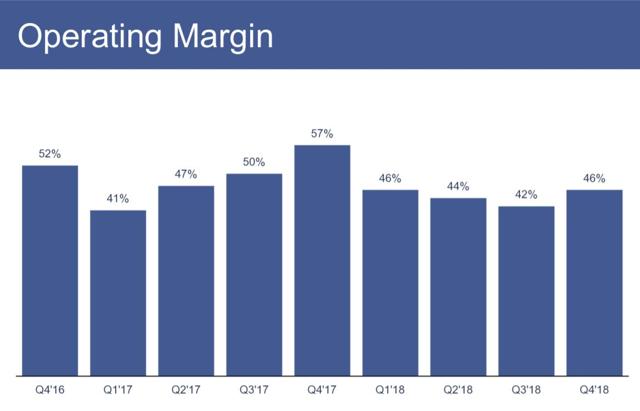 FB also invested heavily in capital investment as compared to 2017: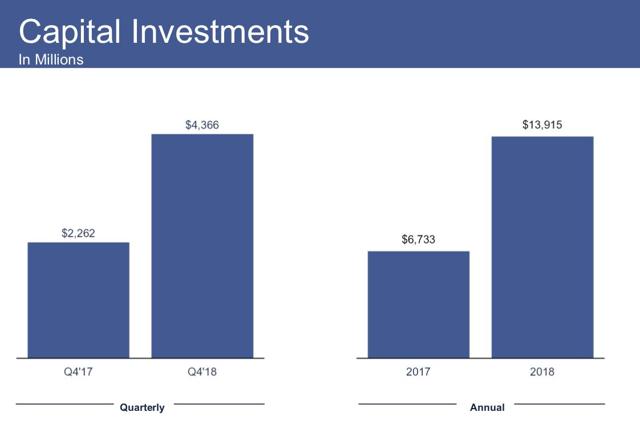 EPS managed to grow about 7% after adjusting the prior year's quarter for one-time tax expenses. Considering the rapid deceleration in revenue growth rates coupled with rapidly rising expenses, such a result is quite good.
FB management again reiterated conservative guidance for 2019, stating that expenses should grow between 40% and 50% higher than 2018, and capital expenditures to also grow to between $18 and $20 billion. They also guided for revenue to decelerate sequentially throughout 2019.
In reality, these results are not materially different in excellence as compared to previous quarters, but I think analysts are beginning to wonder correctly or mistakenly if FB's outlook for 2019 has been too pessimistic.
I continue to view FB as benefitting from secular tailwinds and this quarter does not do anything to distract from this view.
Bullish on Emerging Markets?
The main investment thesis for FB continues to be further increases in ad pricing and ad penetration in North America (US and Canada) and also Europe. However, a less commonly discussed potential growth lever is that in emerging markets, in which FB still has yet to experience the same level of monetization as their main regions. As we can see below, the average revenue per user in Asia-Pacific and "Rest of world" are extremely minuscule in comparison by a factor of over 10 times. This is in spite of the fact that the majority of their users are from Asia-Pacific and rest of world: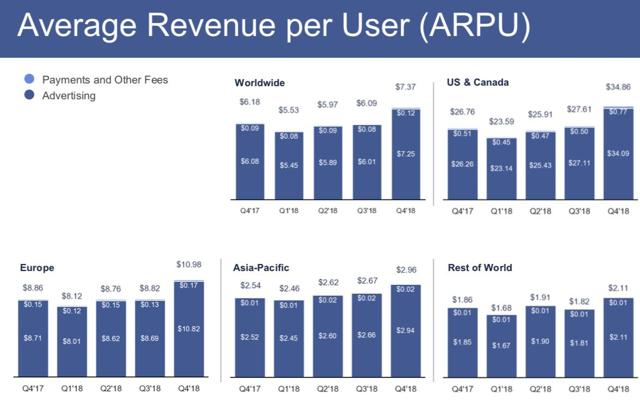 I don't anticipate the ARPU for emerging markets to explode higher to the $20s range anytime soon, but I think that mid to high single digits within the next five years looks achievable. Should emerging markets see strength moving forward, I believe that FB should be a primary beneficiary of increasing advertising spend.
No Hype, Just Buybacks
Unlike another tech giant I cover in Alphabet (GOOG), FB is not hoarding cash and appears to have very quickly shifted towards returning cash to shareholders. This is seen very clearly in the fact that in 2018, out of $15.3 billion in free cash flows, $12.8 billion was spent on repurchases. FB authorized another $9 billion in share repurchases - their small authorizations spread out several times a year appear to be strategically low-key in order to avoid pushing the price higher due to the announcement. This makes intuitive sense because management should prefer to buy back shares at lower prices - such a move is in stark contrast to the $100 billion share repurchase program previously announced by Apple (AAPL).
With such stable cash flows and a consistent buyback, I actually am willing to be very patient with my shares as the buyback makes the time down here worthwhile.
Don't Forget About The Balance Sheet
FB ended 2018 with $41.1 billion in cash and marketable securities, basically in line with 2017. Throw in the fact that they have no debt and this is one of the strongest balance sheets around. In constructing my portfolio for 2019, I have made a clear effort to focus on stocks with strong balance sheets which will be able to weather any storm be it from rising interest rates or a slowing economy.
While I am hopeful that they might choose to return some of the cash in the form of share repurchases, it is by no means a requirement for this investment thesis. The balance sheet however provides for a long term catalyst in the form of accelerated repurchases which may be even more pronounced should they switch from a net cash to moderate leverage position.
Valuation and Price Target
With $7.57 in TTM EPS, FB trades at only 22 times trailing earnings. The S&P 500 recently traded at just under 21 times earnings. Considering the strong balance sheet and in my opinion stronger growth thesis, FB offers a strong chance for market-beating potential. I consider shares to offer a higher reward for lower risk (caveat being I am very bullish their social networks and ability to operate under greater regulatory scrutiny). Below I show my estimates for 2019 and 2020 EPS:

My assumptions call for 22% and 19% in revenue growth in the next two years and a 15% tax rate. I think my operating margin assumptions are probably too conservative because FB may very well see margins increase after 2019, given 2019 is supposed to be the year of increased investments. In determining shares outstanding, I assume that shares will be repurchased at higher prices (to be conservative) at around $192 in 2019 and $221 in 2020.
I believe FB should trade at a terminal multiple between 18-20 in the future. As a result, my conservative (though not to be confused with pessimistic) 2020 target base multiple for FB is 25 times earnings, which would imply shares to trade at $225 by 2020. Thus my 12 month price target for FB is $195. This suggests upside of 18%.
Note that this is assuming FB would be priced on account of trailing earnings - if the bull market returns and FB reaches a more optimistic valuation, shares in 12 months might trade at 25 times 2020 earnings, or $225 per share. This would represent upside of 36%. I find it unlikely that the market will return to such optimism but if it does, I would be keen on holding FB to this higher level. I should note these numbers are not adjusted for the cash on the balance sheet - I do this to stay conservative (but again, I'm not being pessimistic in any shape or form).
Risks
There are apparently countless lawsuits being raised against FB, the most recent being the filing by Washington D.C. Furthermore, the FTC is expected to give their decision at some point about how much to fine FB for potential violation of their 2011 settlement agreement. While the previous record fine was a minuscule $22.5 million by Google, it is still unclear how much FB may need to pay to put this matter behind them. I personally think it's unlikely for the number to be very large - but until it's set, anything can happen. I believe that it may be the regulatory risk which is keeping FB and GOOG from putting their cash hoards to use.

FB will be increasing its expenses dramatically in order to improve data security and privacy - but this appears to be a lose-lose situation. As long as there are no outlined standards or regulations, FB may continue to be chastised over the rare mishap instead of their usual successes. There is little reward in being judged for not failing - and it is unclear what the ramifications might be the next time a problem happens, if and when it does.

FB has a strong moat due to its network effect, courtesy of the now 2.7 billion users across its platforms. That said, there is no guarantee that these users will stay on the platform or continue using it to the extent that they have in the past. FB needs to continue innovating to ensure that competition does not steal screen time from its users.
Conclusion
In this market, high quality names seem to trade at high quality multiples. I hate to say it, but patient investors are rewarded when these companies encounter difficulties causing their stock prices to fall back down to earth. No one can tell the future, but I think the calls for "#deleteFacebook" or "the end of growth" will pass. At 22 times earnings, FB is my highest conviction buy of 2019.