Markets are running on borrowed time. That's the prevailing sense on Wall Street. This is different than saying it's time to short the indices. What makes sense is to shore up current positions and get ready to add long-term investments on dips. When the current conditions are risky and confusing, that's when it's wise to make a list of great stocks to buy. You can "add them to cart" and get ready to hit the buy button on a moment's notice.
2020 was one for the record books, but 2021 is starting out even wilder. What is happening now with GameStop (NYSE:GME) and the fight between the r/WallStreetBets gang and hedge funds is insane. Therefore, this year has already broken stock market records and now a new chapter is afoot. This could end in a disaster that spills over to all other stocks.
It is almost a no win situation because if WSB wins, then we are making this house of cards taller. The higher we go without a break, the more massive the crash. Nothing goes on forever. Furthermore, regardless of who wins, the loser will have billions in losses. To cover them they will need to liquidate assets. They will sell whatever stocks they own to do that. That puts downside pressure on the indices.
Another point of worry is the ARK effect. There is a strong movement that follows everything ARK does. Their website message is that they invest in "disruption," which is a potential problem. That means that they look for future success not already strong business. Very few of those proverbial pies in the sky pan out. This mantra changed the spirit of the "small caps." You can overlay the iShares Russell 2000 ETF (NYSEARCA:IWM) charts with any ARK's ETF and it is hard to tell the difference. I give them credit for nailing Tesla (NASDAQ:TSLA), but that doesn't mean they will all be similar home runs.
A lot of the tickers they favor are future successes that could fail. It's one thing to wait for Alphabet (NASDAQ:GOOG, NASDAQ:GOOGL) stock to bounce back, but not all speculative ARKG bets will survive another year.
A good habit to develop is to do your homework. I spend hours marking up charts and setting alerts on good companies. When madness finally hits the fan, I'm ready to pounce. Last week, my inbox was full of alerts. Most were for opportunities to start consider credit put spreads. These are bullish strategies, but ones that leave room for error. They work well when I know there are buyers below but with the threat of a little more pain possible.
Today we discuss three tickers that should be on investors' shopping lists if markets develop a negative trend into March. They can all fall more, so we are not calling bottoms. But it is important to start the conversation while leaving room to add if the selling persists. A healthy "bottom" is a process not usually in a V-shape.
Three great stocks to consider today include:
Apple (NASDAQ:AAPL)
Walmart (NYSE:WMT)
Boeing (NYSE:BA)
Great Stocks to Buy After a Correction: Apple (AAPL)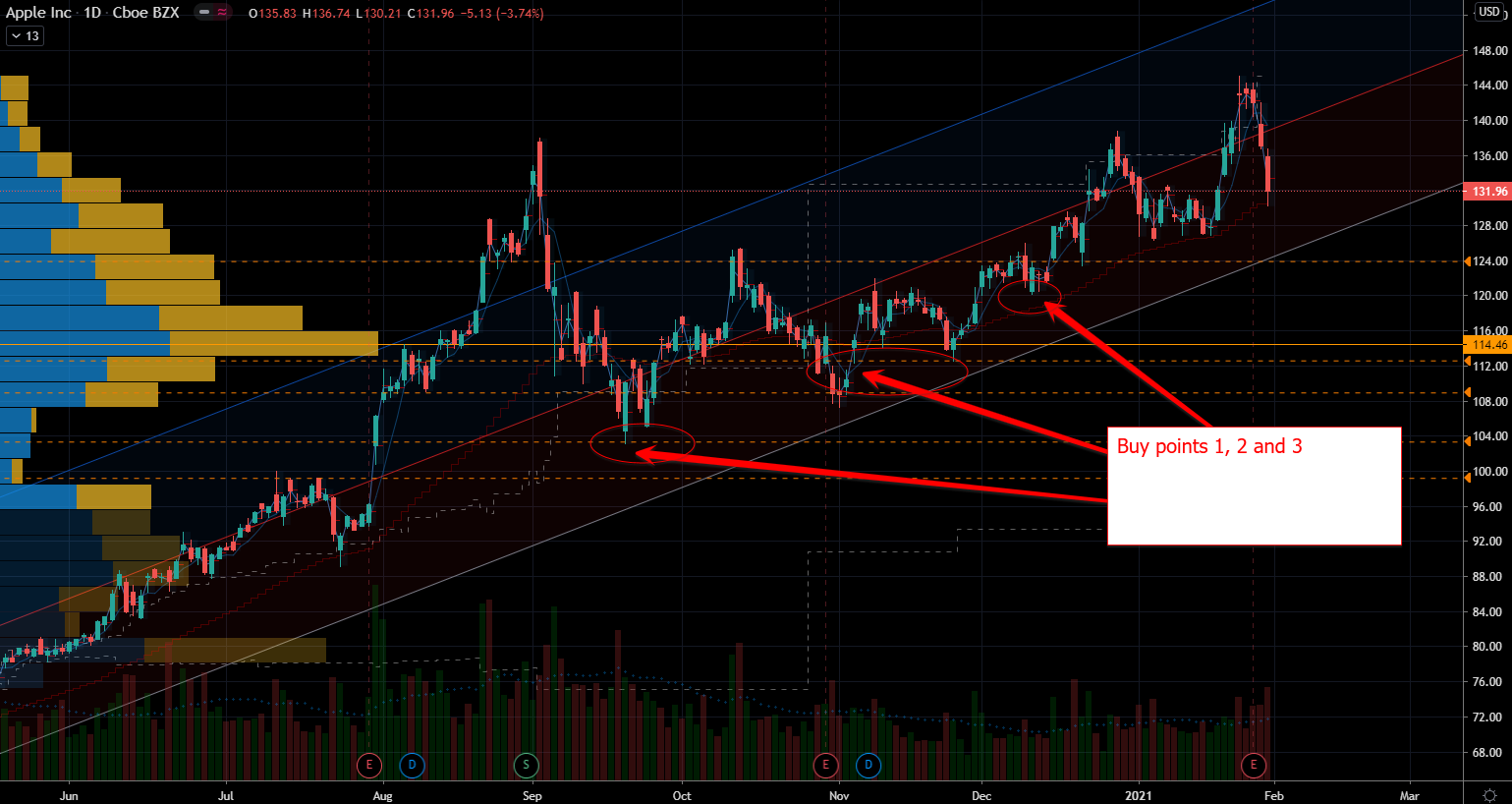 Apple belongs on the list of great stocks to buy, but not because it's my favorite. Regardless of my opinion on the company, it's the perception on Wall Street that matters most. And they're are not wrong — it's a great business that is firing on all cylinders.
To fail at owning AAPL stock for the long term means that the market has suffered catastrophically. It's not the first ticker I'd rush to buy now because of the high levels it has achieved lately. This is the highest I've seen its price-to-earnings ratio — it's more than double its usual figure. I know there is a sales mix shift going on and that's why it's on this list.
While I don't want to chase it up here, I would definitely buy the dips. The depth of its corrections have been shallow and brief. I am not so sure about the next jolt, so it will pay to be patient. There are several levels to watch here and they start near $120 per share. That served as the base for the most recent rally that started in December. If the selloff persists and AAPL stock falls another $10 from there anything near $112 is my second zone to buy.
Things have been going too well on Wall Street in relation to the carnage on main street. This means that the next correction might break a few things beyond the recent trend. The swoons could last longer or go deeper. In that event, Apple stock is a blind buy under $103 per share. These would be positions to own for years to come. Those who did that last September gained a 40% rally. The goal is not to capture these lunatic snap corrections, and I would take profits when they come. Eventually they will stop happening and we go back to normal.
Walmart (WMT)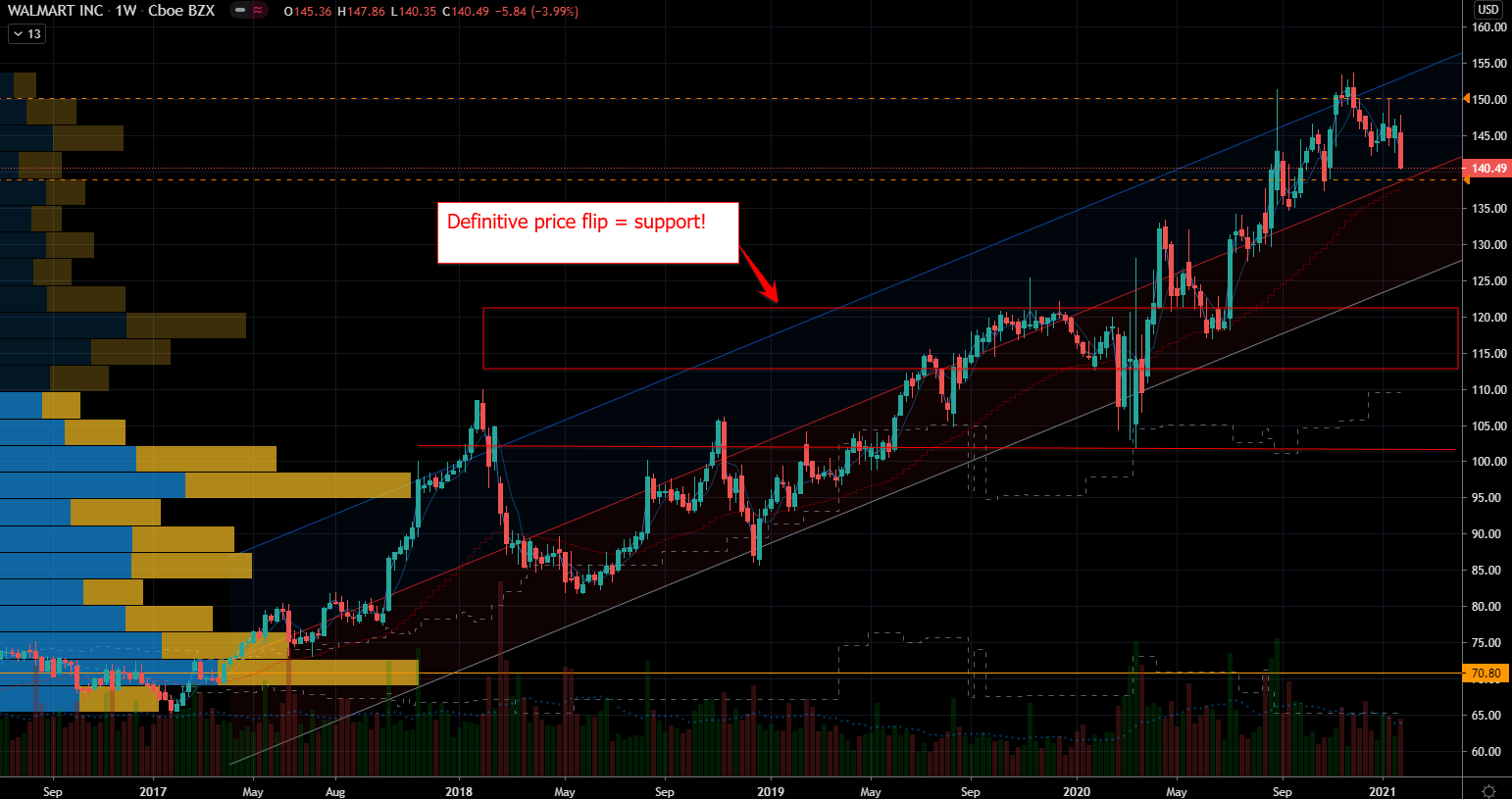 WMT stock would be my top pick on this next crash. It's the best blend of success on main street and Wall Street. They have fully adapted to the new normal for retail. This means that they are as big a success online as they were in their earlier brick-and-mortar years. In addition, the stock has already corrected almost down 10%. This makes it a leaner stock to hold during stints of trouble. We don't know how long the selling will persist so it's good to start with a fair value stock.
When a chart is precariously perched to start, it takes but a small push to start big calamities. Lean stocks fall more slowly, which gives them the opportunity to stabilize quicker. In a complete debacle, the bulls will not risk their fingers trying to catch a machete in mid fall. It is much easier to nibble on the way down if there is order among the sellers. Froth comes out very fast from momentum stocks. Walmart is not one of those bunch. Besides this will also give current owners some gumption to not panic out. This means stronger hands are holding WMT shares.
Valuation matters and WMT stock has never been bloated. Its price-to-earnings is still modest: under 21x. In comparison, Apple's P/E is now over 40x, so it has more fat to lose before hitting support. Technically, WMT stock has already triggered a bearish pattern and its target is about $6 lower still. Walmart doesn't always fill the entire length of it but even if they do, the opportunity would be even better then. An entry into Walmart near $122 per share would make for a great long-term opportunity.
Boeing (BA)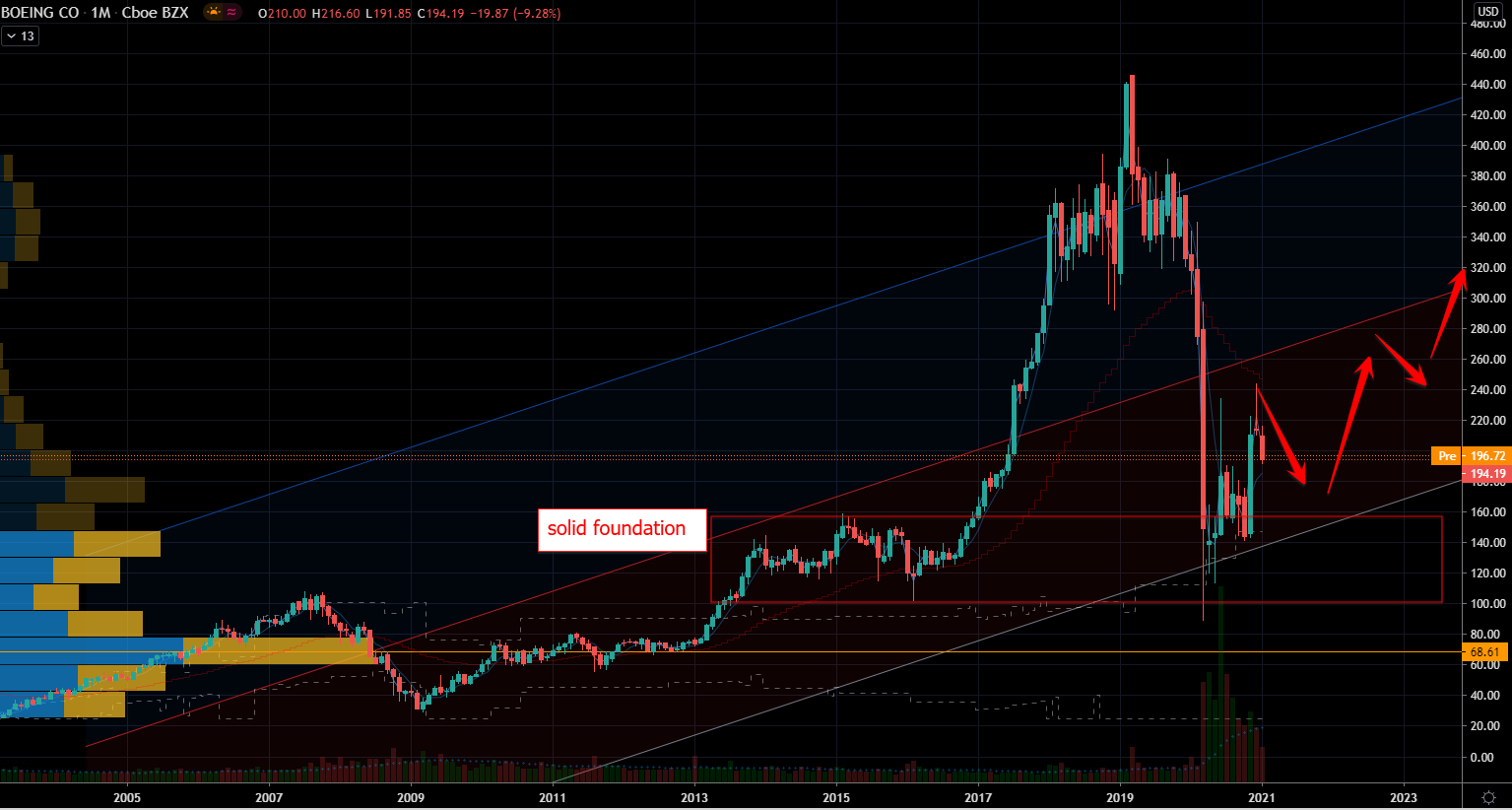 Unless we are headed into a zombie apocalypse, corrections in Boeing stock are great investment opportunities. People still need to fly around the planet, so the demand for its products and services has not let up. It suffers trough lulls and we just got done with the mother of all lulls. The pandemic crushed air travel and the airlines needed several bailouts to survive. This is trouble to no fault of their own, even though Boeing created some drama for itself recently. The chart shows how close BA stock is to long-term support. Given this support, when it enters troubled times, I'd consider it a knife to catch.
Eventually planes will be in greater demand, Airlines need to continually update their fleets and they've been shackled. There is light at the end of this pandemic nightmare so there is upside from here. Vaccines are out for distribution and the trends will continue to normalize maybe even faster now. According to the TSA daily screenings, air traffic in the U.S. is still down 60% to the run rate. Slowly, but surely, people will start to move about the planet again.
Last year was as tough a test that any major business has ever endured. Yet Boeing survived and it is ready to benefit from a return to "normal." BA is not smooth sailing yet, but it's certainly healing its wounds. They say "what doesn't kill you makes you stronger," well BA stock flat-lined and came back to life several times. This revival came despite terrible mismanagement of the 737 Max tragedies. Although this was disastrous, management redeemed itself with how it handled the lockdown situation.